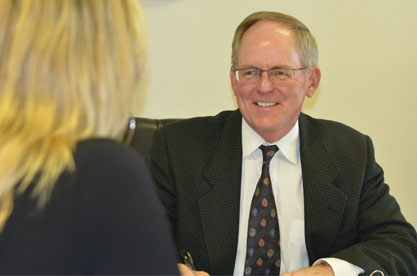 Oro Valley
Estate Planning Attorney
As an Oro Valley estate planning lawyer and real estate and business attorney, I have been practicing law for more than 25 years. I think that it is important to know your lawyer so that you can make the best choice for your matter, so here is a brief biography of me.
I'm a native Midwesterner, having been born and raised in Minnesota and living there for more than 50 years prior to relocating to Arizona. My wife and I have four children, including two high school students, a college student at NAU, and another at ASU.
In addition to practicing law, my wife and I have owned two senior care centers in Minnesota. As small a business owner (in addition to my law practice), I understand and appreciate the challenges and opportunities facing business owners. I've built my practice around the core principals upon which I was raised – working hard to produce outstanding results, being available to clients when needed, charging a fair fee, endeavoring to keep legal costs affordable, and focusing first and foremost on client objectives.
If you are in need of estate planning, probate, business, or real estate legal services, I would invite you to call me.
Education & Honors
J.D., William Mitchell College of Law, St. Paul, Minnesota
B.A., Gustavus Adolphus College, St. Peter, Minnesota
Admissions & Memberships
State Bar of Arizona (all state courts)
State Bar of Minnesota (all state courts)
Call Me or Stop By My Office
I'm a native Midwesterner, having lived most of my life in Minnesota. I would look forward to meeting you, and learning about how I may be of service to you.
By submitting this form, this firm will take no action to protect your interests. Submission of this form does not establish
an attorney-client relationship. Please do not submit any confidential information through this form.